Conference Reports
May. 21, 2014
Highlights and Summary of the 9th International Conference on Hyaluronan (HA 2013)
(2014 Vol.17, A2)
Naoki Itano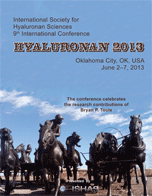 Naoki Itano
Kyoto Sangyo University

The International Conference on Hyaluronan (HA 2013) was held at the COX Convention Center in Oklahoma City, Oklahoma, USA from June 2 -7, 2013. The conference is held once every three years, hosted by the International Society for Hyaluronan Sciences (ISHAS). This marked the 9th conference and followed HA2010, which was held in Kyoto.
More than 300 hyaluronan (HA) researchers gathered from various countries around the globe and engaged in vigorous discussions on the latest presentations. Participants came not only from universities/public organizations, but also from private corporations, demonstrating the high interest in HA research. The Conference was organized by Dr. Paul Weigel, with Dr. Paul DeAngelis and Dr. Anthony Day. Dr. Masaki Yanagishita and Dr. Koji Kimata, who organized the previous conference in Kyoto, also took part in the planning and operation of HA2013.
In 14 sessions, 90 oral presentations and 163 posters were discussed. The program covered a broad range of topics on basic and applied research. For further details on the presentations, please refer to the proceedings.


Recent development
Biosynthesis
Tumor and Degradation
Regenerative Medicine
Tumor Biology
Connective Tissue and Musculoskeletal Systems
Medical and Surgical Devices
Cardiovascular and Lymphatic Systems
Development, Aging, and Differentiation
Inflammation and Immunity
Treatment of Tumors and Metastasis
Neural Tissues and Stem-Progenitor cells
Cell and Organ function and Pathology
Treatment of Inflammatory and Other Diseases
http://ishas.org/images/2013_Conference/ISHAS_2013_Book_of_Abstracts.pdf
HA2013 offers the opportunity to discover the most recent research trends in the field as well as a valuable occasion to share quality time with fellow researchers from all over the world. The conference is an event that is always eagerly anticipated with its inspiring presentations. HA2013 was no exception. This report focuses on presentations I personally felt may significantly influence the direction of future HA research.

In the "Biosynthesis" session, organizer Dr. Weigel reported a novel biosynthesis mechanism in which the chitin oligomer becomes a cap to extend HA at the early reaction stage of HA synthesis. Previous studies have demonstrated that chitin oligomers are synthesized by HA synthases (Has). Dr. Weigel's group observed these oligomers by mass spectrometry (MS) and described their functions as primers for HA biosynthesis. This discovery greatly advances our understanding of the mechanism of HA synthesis.

From the "Tumor and Degradation" session, Dr. Hiroyuki Yoshida presented an important report on a novel HA binding protein involved in HA degradation. Since this molecule does not show any similarity to the primary structure of the previously identified HYAL family, it may attract major attention as a candidate molecule for a novel degradation enzyme. This remarkable research provides a new insight to researchers throughout the world. Further developments are eagerly anticipated.

Regarding the biological function of HA, results were obtained by a reverse genetic approach using mice lacking the genes of HA synthase, degrading enzyme and binding molecules. For example, in the "Connective Tissues and Musculoskeletal systems" session, Dr. Anna Plaas reported that Has1-producing HA is involved in functional recovery and regeneration of cartilage tissue following joint injury based on the analysis of Has1 knockout mice. Dr. Emeline Puissant demonstrated that degrading enzyme HYAL1 gene deficiency is involved in the development of osteoporosis and presented data suggesting that the HA degradation by HYAL1 plays a critical role in bone remodeling. In the session "Cardiovascular and Lymphatic systems", Dr. Hideto Watanabe presented analytical results of versican insertion mutants and conditional knockout mice, and reported that HA-versican interaction is significant to heart valve morphogenesis.

In the "Development, Aging, and Differentiation" session, Dr. Yu Yamaguchi, based on results from his longstanding research, reported that epileptic seizures were induced by the lack of hyaluronan synthase (Has) genes. The reduction of HA matrix in the pyramidal cell layer leads to the reduction of extracellular space volumes, suggesting that such reduction may be the cause of the seizures. In the session "Inflammation and Immunity", Dr. Maria Grandoch and her colleagues reported that HAS3-deficient mice showed resistance to dextran sodium sulfate-induced inflammatory bowel disease. This suggests that HA produced by Has3 plays a functional role in the development and progress of this disease.

In "Neural Tissues and Stem-Progenitor Cells", Dr. Barbara Triggs-Raine described that degrading enzyme hyaluronidase 2 (HYAL2) knockout mice exhibit HA accumulation in the heart, kidney and lungs. Possible involvement of the HA degradation mechanism by HYAL2 in these organs was suggested. Analyses of knockout mice have been reported in recent years, and in this HA2013, it has been revealed that the current state of HA function analysis in vivo has progressed at an accelerating pace with use of the reverse genetic approach.

In the session "Treatment of Tumor and Metastasis", Dr. Tracy Brown spoke on the current status, including preclinical trials, of her research "Development of HA as a CD44-targeted drug transporter" which won the Rooster Award. Dr. David Jackson described how the HA binding of LYVE-1, a HA receptor in lymphatic endothelium, is regulated by its clustering in the session"Cell and Organ Function and Pathology".Structural analysis enabled a better understanding of the relationship between the structure and function of LYVE-1. Further clarification of the metabolism and function of HA in the lymphatic endothelium is expected in the future.

In the workshop "Characterizing and Monitoring Hyaluronan", various obstacles to advancing HA research were raised and new approaches against them presented. The use of different HA samples and analytical methods in experiments causes wide discrepancies in the results. This is always problematic. Workshops focused on detection and quantification of HA from biological samples, accuracy of size analysis and purity of HA in preparation were organized. This marks a significant starting point in solving this problem.
HA2013 was also an occasion to honor Dr. Bryan Toole for his outstanding work and contributions to the HA field. Following the opening of the Conference, colleagues, including Dr. Warren Knudson, introduced Dr. Toole's excellent works and wonderfully humorous character. The Rooster Award which honors scientists for significant contributions to the therapeutic use of HA, was awarded to Dr. Brown. On a sadder note, Drs. Warren Knudson, Anthony Day, Vincent Hascall and Tracey Brown offered tributes in memory of the preeminent researchers in the field passed away since the preceding conference. These include Dr. John Scott, HA structure; Dr. John Sheehan, X-ray diffraction and hydrodynamic investigations of HA; Dr. Robert Fraser, HA metabolism, and Dr. Dick Heinegard, aggregation with HA binding molecules. All were leaders in the field who had conducted pioneering research. While there was sadness over the loss of important scientists, HA2013 showed evidence of the rise of new leaders steadily forming research networks of their own. The field is taking solid steps forward to the next generation.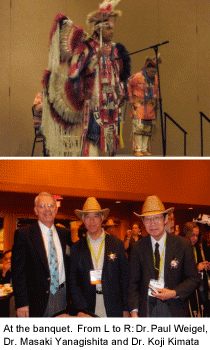 Due to the jet-lagged, I felt that the conference schedule was slightly tight (starting from 8:00 and ending sometimes after 21:00). Thankfully, the hotel was connected to the venue, facilitating attendance. The excursion and the banquet provided a pleasant break from academic discussions. At the banquet, participants were handed cowboy hats (see photo below) and watched Native Americans perform a traditional dance. A number of researchers joined in, making the occasion all the more enjoyable. The excursion tour was a visit to the National Cowboy and Western Heritage Museum where the history and lifestyle of Native Americans, displays of cowboys and western films were exhibited. Within walking distance of the conference venue was Bricktown, a beautifully preserved Midwest American district featuring restaurants and shops. Most of the participants enjoyed lunch or dinner there and no doubt engaged in heated discussions in this good old America setting.

HA2013 concluded successfully with Dr. Weigel's closing speech. There were concerns whether the conference would actually take place, because of the severe damage the tornado had wreaked in Oklahoma just before the Conference. Fortunately, everything went smoothly. The six day gathering proved the high quality and broad base of HA research, and also left me with a good feeling of accomplishment after completing my presentation and fulfilled newly acquired knowledge. The next conference, HA2015, is scheduled to take place in Florence, Italy, under the organization of Dr. Alberto Passi. Although two years seems a short to obtain new results, I will continue my research and hope to make a presentation again in HA2015.
---