Gangliosides, sialic acid-containing glycosphingolipids, are present in surface membranes of cells and are thought to play important functional roles in regulating a wide range of biological processes, including cell surface interactions, cell differentiation and transmembrane signaling. Human plasma membrane-associated sialidase (NEU3) is a unique enzyme hydrolyzing gangliosides specifically1,2, and therefore has been suggested to participate in cell surface events through modulation of gangliosides. Here we demonstrate that mice overexpressing NEU3 develop diabetic phenotype by 18-22 weeks associated with hyperinsulinemia, islet hyperplasia and increased β-cell mass3. Compared to the wild type, insulin-stimulated phosphorylation of the insulin receptor and insulin receptor substrate I was significantly reduced, leading to retardation in post receptor insulin signaling. In response to insulin, NEU3 was found to undergo tyrosine-phosphorylation and associate with Grb-2 protein, thus being activated and causing negative regulation of insulin signaling. In fact, accumulation of GM1 and GM2, the possible sialidase products in transgenic tissues, caused inhibition of IR phosphorylation in vitro, and blocking of association with Grb-2 resulted in reversion of impaired insulin signaling. The data indicate that NEU3 is a new molecule in insulin signaling, and the mice can serve as a valuable model for human diabetes mellitus.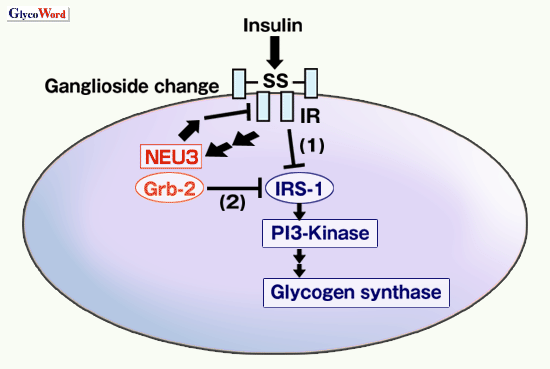 Fig. 1 Schematic model of the hypothetical role of NEU3 in insulin signaling.
In the upstream pathway (1), NEU3 down-regulates IR phosphorylation through modulation of gangliosides, and in the downstream pathway (2), NEU3 influences signaling negatively through interaction with Grb-2.
| | |
| --- | --- |
| 1. | Wada, T., Yoshikawa, Y., Tokuyama, S., Kuwabara, M., Akita, H., and Miyagi, T.: Cloning, expression, and chromosomal mapping of a human ganglioside sialidase. Biochem. Biophys. Res. Commun. 261, 21-27 (1999). |
| 2. | Wang, Y., Yamaguchi, K., Wada, T., Hata, K., Zhao, X., Fujimoto, T., and Miyagi, T.: A close association of the ganglioside-specific sialidase Neu3 with caveolin in membrane microdomains. J. Biol. Chem. 277, 26252-26259 (2002) |
| 3. | Sasaki, A., Hata, K., Suzuki, S., Sawada, M., Wada, T., Yamaguchi, K., Obinata, M., Tateno, H., Suzuki, H., and Miyagi, T.: Overexpression of plasma membrane-associated sialidase attenuates insulin signaling in transgenic mice. J. Biol. Chem. 278, 27896-27902 (2003). |